Prof. Dr. Maged Abul-Enein, Dean of the Faculty of Education, Ain Shams University opened the seminar of "Media and National Security of Egypt" as part of the celebration of the faculty in memory of the October victories. The seminar was hosted by Maj. Gen. Nagi Shahoud, Advisor of the Center for Strategic Studies at Naser Academy and Mr. Khaled Saad, the chief announcer of the first channel on Egyptian television, and a colleague of Nasser Higher Military Academy. Prof. Dr. Ashraf Mounes, Director of the Center for Middle East Research and Future Studies at the University and Head of History Department, Faculty of Education moderated the seminar. In the presence of Prof. Dr. Hazem Rashid, Vice Dean for Community Service and Environmental Development and Prof. Dr. Mohamed Abdel Salam, head of the department of geography at the faculty and a group of professors.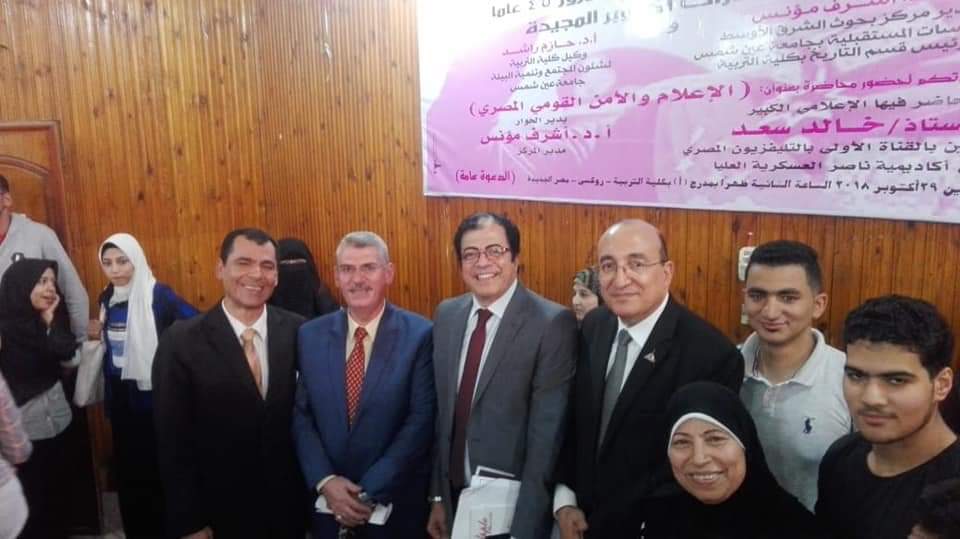 Maj. Gen. Nagi Shahoud, stressing that the smart phones that most young people acquire today are two-edged weapons. They are easy to communicate and get a lot of information, but they pose a great danger. It is one of the most dangerous weapons of the fourth generation war. It aimed at destabilizing security. He stressed the importance of not publishing news or information without first confirming its validity, as well as not following dividing the country.
He pointed out that October generation is not only the Egyptian army, but also the army and the people of Egypt. The October victory was the will of the people and was carried out by the soldiers.
Prof. Dr. Khaled Saad talked about the role of the media in raising awareness and achieving national security. Media is a powerful weapon that is destroyed if used in the wrong way and it is an instrument of enlightenment and culture if properly employed and social networking sites contribute greatly to shaping the awareness of the Egyptian people at present. So be careful in the circulation of news. The Egyptian people are a peaceful people by nature. They do not seek to fight unless they are attacked, "he said." With the efficiency and courage of the Egyptian army, victory is achieved despite the superiority of the enemy forces in weapons and equipment. We all owe security and peace to the soldiers of our armed forces who were still protecting our borders by land, air and sea.
At the end of the seminar, Prof. Dr. Magid Abu El-Enein and Prof. Dr. Ashraf Mounes honored the guests of the seminar, Maj. Gen. Nagi Shehood and Prof. Dr. Khalid Saad in recognition of their great efforts to enrich the debate at the symposium.