Prof. Dr. Abdel Wahab Ezzat, President of Ain Shams University with the Egyptian delegation, participated in the 14th session of the 2018 Higher Education Conference in New Delhi, India. The conference was opened under the title "Future Universities" with the participation of delegations from 65 countries from different continents.
The event was attended by a high level Egyptian delegation, including a number of Egyptian university presidents and some leaders of the Ministry of Higher Education and Scientific Research, with the participation of Dr. Rasha Kamal, Director of the Central Department of the Ministry of Higher Education.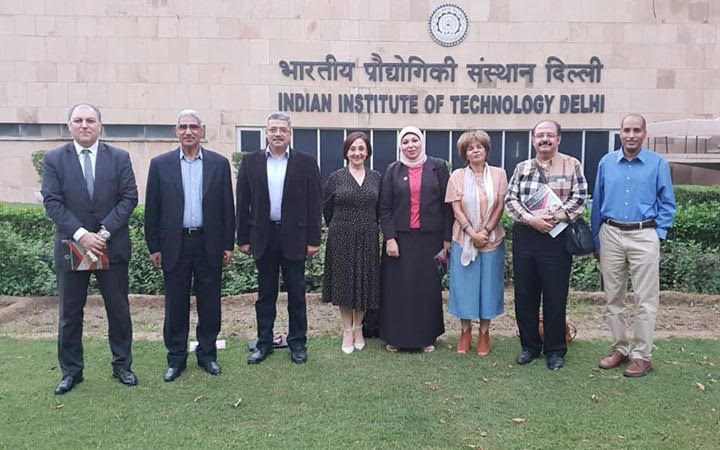 The opening session dealt with a number of initiatives for higher education in India and the various aspects of cooperation in the field of higher education. The opening session also dealt with contemporary trends in universities and higher education, future development visions and the features of the fourth generation universities, which includes technologies of artificial intelligence, virtual reality and others.
The Minister of Commerce, Industry and Civil Aviation of India attended the opening ceremony, and the Minister of Human Development of India, who is responsible for education at all stages, delivered the speech of the Conference.
It is worth mentioning that the organizer of the conference praised the high quality representation of the Egyptian delegation.
On the sidelines of the participation of the Egyptian delegation in the 2018 Higher Education Summit in New Delhi (FHES 2018), a high level delegation from the Egyptian Ministry of Higher Education and Scientific Research visited the Indian Institute of Technology Delhi (IITD), one of the largest governmental educational institutions. It includes many scientific, engineering and technological disciplines and centers of excellence and ranks third in the 2018 National Institutional Ranking Framework (NIRF).
During the visit, several meetings were held with the Director of the Institute, the deans of research and development, international programs and planning. They dealt with the possibilities of enhancing cooperation between Egyptian and Indian educational and research institutions such as exchange of students, exchange of faculty members, scholarships from the Indian side, scientific and technological research and joint educational programs.